Hansel & Gretel, or at least the Brothers Grimm, always had it right--leaving your trail behind has its perks, and they go well beyond keeping yourself safe from cannibalistic witches and their brewing cauldrons. It would appear that an astonishing number of international street artists received the memo though because the mural trails they've been leaving behind in India are well worth a probe.
From Kochi to Varanasi, their indelible artworks are standing the test of time even amidst the colourful chaos without any help from the outside. But the colours you create when you infuse them together in a single palette are far more intriguing than the ones that exist on their own.
Homegrown curates incredible Graffiti artist murals across the Indian landscape.
1. Mattia Lullini - Extension Khirkee Festival
Where: New Delhi, India
Born in Bologna in the June 1985
Mattia Lullini
now lives in Copenhagen together with a red haired girl. Drawing, painting, silkscreening and murals are the mediums he uses to create his universe of multiform and psychedelic animals. He loves the art of tribes, of the origins, of men and women from India, Oceania and Americas and in general the decorations. What he draws is the un-human magic and the animals dreaming.
2. Interesni Kazki
Where: Kerala
Globetrotting Ukranian duo
, 

Interesni Kazki
, who just had a solo showing in Los Angeles (
covered
), apparently made their way over to India for some wall-painting fun a few years ago. The two street muralists have started creating some pieces by applying their surrealistic touch to some walls there while adding in some local flavour.
3. C215
Where: Delhi
In 2008, French artist C215 put a series of stencils up in Delhi. The
Random Specific blog
has revisited the work and has a great series of images of the stencils with two years of wear ... and they look really good. C215's style works really well with the added coloration and texture of the years.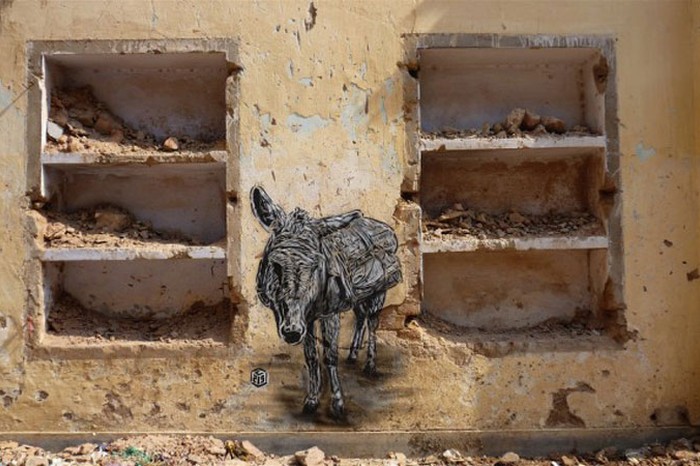 4. Baba - Artist Unknown
Where: Varanasi
Like most of the backpackers and travellers visiting Varanasi, artists tend to leave their mark on the walls of the holy city, too.
5. Aakash Nihalani: Inside out
Where: Delhi 
Using fluorescent tape and simple geometric shapes, artist
Aakash Nihalani
creates complex 3D art installations on the street across the globe. He is based in New York but is of Indian Origin.
6. Hugh Leeman
Where: Varanasi
A self-taught artist from San Francisco,
Leeman's works
span the globe. Varanasi seems to be something of a favourite amidst nomadic graffiti artists though, because we were astounded by the volume of incredible murals we discovered on the city's skin. Leeman enjoys poster-styled grafitti in particular as is apparent in this image.
7. Hendrik Beikirch
Where: Bangalore
Hendrik Beikirch
is a German painter, better known under his alias ECB, under which he executes large scale paintings on public walls as well as on canvases.
8. Multiple Murals Painted by Wa One of Interesni Kazki In India
Where: We couldn't begin to figure it out...
9. Adnate
Where: Mumbai, Tulsi Pipe Road
Adnate
is another international artist who is often known for his extremely aesthetic art. He made several installations such as the one above, at Tulsi Pipe road, and one can notice his special dexterity when it comes to drawing eyes.
10. Solocink
Where: Delhi
This mural was painted in Paharganj, Delhi, as part of the St.ART Delhi festival's very first edition.
11. Okuda
Where: Delhi
This mural was painted by the Spanish artist, Okuda, as part of st.ART Delhi's first edition. Most of his work has an element of 'pop surrealism.'
12. Loomit - 'Himalayas'
Where: Delhi
Somewhere in Khirki village, sandwiched between crumbling homes, a lot of people come to pose in front of this wall painted by Loomit.
13. Alias
Where: Delhi
We shudder every time we see this beautiful piece by Berlin-based artist,
Alias.
14. Andy Yeng & Tofu
Where: Delhi
A collaborative piece of stunning artwork by two of St.ART Delhi's artists, Andy Yeng & Tofu.
15. Bond
Where: Delhi
German artist Bond creates this polychromatic piece on the collaborative exhibition space, Bakheda, in Delhi.
16. Tofu
Where: Goa
This German-bred artist has been painting walls since 1997 and the experience shows as he splatters incredibly precise, geometric and illusionistic imagery all over India. He's also travelled across parts of South American and Mexico during his journey, developing a unique style of black and white painting along the way.
17. Dome
Where: Mumbai, Near Lilavati Hospital (Bandra)
Both an illustrator and a street artist, Dome discovered this fascinating medium to express himself in 1994 when he started painting walls. He's found his niche "creating art that examines the human body and the human condition in a surrealistic manner." Something that's perfectly apparent in this stunning mural he created as part of St.ART Mumbai in 2014.
18. Gomez - 'The Rapture Of Virgin Mary'
Where: Outside St. Jude Bakery, Bandra
This Roman artist created this 'subversive' mural as he labels it as part of st.ART Mumbai, 2014 as well, showcasing a woman in the throes of passion even as an arrow is driven through her heart.
[Missed some of your favourites? Don't worry. Just let us know in the comments section below, we'll be happy to add them in.]