Ordering a Long Island Ice Tea is the easiest thing to do in a bar. Making one at home though, may turn out to be a nightmare. If you've still been trying to throw house parties with your bare minimum bartending skills anyway, and sending your guests home on terribly proportioned mixes of old monk and coke, a Bandra bar has stepped in to up your game a little bit. Enter 'Bartender In A Bottle,' a one litre cocktail bottle that you can order and that too, for a steal.
The Daily Bar & Kitchen in Bandra is offering around 50 cocktails from their menu in a takeaway bottle. Priced at Rs.1500 (all inclusive) it serves five glasses (200 ml each) and is already creating quite a stir. The project was launched at the third anniversary of The Daily and will officially start service on 21st June.
Much before Bartender In A Bottle's inception however, owner Dishant Pritamani was providing cocktails from his bar packed in a plastic water bottle. "A lot of people like partying at their own houses and many patrons dread coming on the weekends because of the crowd. To avoid the rush, either they hire a bartender or make their own cocktails. What usually happens is that many don't have all the ingredients and equipments needed for these drinks. A bartender will have to carry more than ten items with himself and use a home space and if someone asks for something other than the listed items, he won't be able to make it without those ingredients. I found it easier to just make them in the bar itself, put them in a Bisleri bottle and take them along," he explained to us.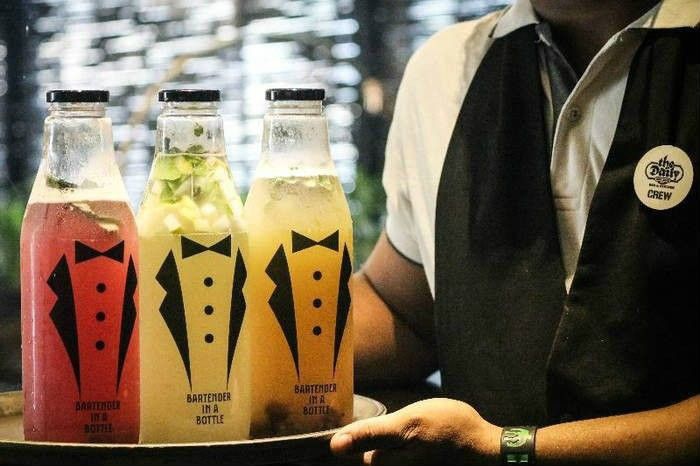 Considering The Daily's patrons almost always wished to take their cocktails home, this venture just seemed logical. Pritamani said that anyone can order food at home, but what about cocktails? Considering how cocktail-mixing is pretty rudimentary at house parties, the bottle could change the way people consume drinks. "More than the drink, it is about the skill and attaining the right balance. If you make a drink yourself, you won't know how much syrup to put in which drink and the whole drink might lose out on the perfect balance. With this bottle, the skill of an experienced and educated bartender is at your service," said Pritamani.
Signature drinks like The Shimmer Ball (Gin, Cranberry infused Chamomile Tea, Basil, Dates), Elysium (Whiskey, Rosso, Curry leaves, Dates, Apple juice) and pre-prohibition drinks Mary Pickford (White Rum, Pineapple juice, Cherry), El Presidente (White Rum, Vermouth, Triple Sec, Grenadine) along with the Tiki Cocktails and Classic Cocktails like Margaritas, Martinis and Manhattans will be available in the take-away bottles. Over 20 varieties of Sangria will also be available depending upon the seasonal fruits available.
The bottles have been designed just like a bartender and look like they could make a valuable addition to home supplies. The drinks in them though will last up to two days after your order has been made. "It is clean and easy. The hassle of buying ingredients, mixers, equipments and hiring a bartender and cluttering the kitchen space is not an issue anymore," Pritamani tells us.
Kiran Makhija from The Daily's Marketing and Design team said that the next step after the bottles are launched are gift packs. "We will see how people are reacting to this idea and start the gift packs of three and five bottles," she said. Pritamani is still figuring out the home delivery system. "Our patrons are mostly from the area so they can pick it up. If there is a legitimate channel which allows delivery of alcoholic cocktails I am willing to move ahead in that direction. We are still working on it," he said.
That's everything we have from the horse's mouth. Except for the molecular cocktails, you can order any cocktail from the menu over the phone and pick it up at your convenience. Call 9920446633 and place your order. Now go forth and throw the house party of your dreams this weekend.
Photographs: Mohna Singh